Solid colors AA Hoodies
Machine wash cold with like colors, dry low heat.
Inspirational graphic design for anyone living and enjoying recovery from drug and alcohol addiction.
A true meditation a simple message. Part of the 12 step program from the Big Book.
Great gifts idea for anyone enjoying sober living and found the courage to change their life for the better.
This apparel Hoodie influences an awesome occasion, to travel or sobriety anniversary, recovering alcoholic and meditation.
Awesome Gift for people who starts the 12 step recovery and recover the healthy life.
Check out our A.A. / Recovery T-Shirts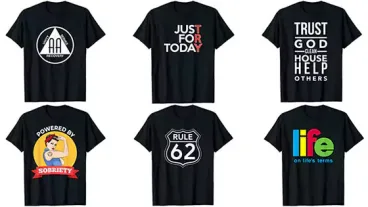 We Become Willing . . .
At the moment we are trying to put our lives in order. But this is not an end in itself.
— Alcoholics Anonymous, Page 77
How easily I can become misdirected in approaching the Eighth Step! I wish to be free, somehow transformed by my Sixth and Seventh Step work. Now, more than ever, I am vulnerable to my own self-interest and hidden agenda. I am careful to remember that self-satisfaction, which sometimes comes through the spoken forgiveness of those I have harmed, is not my true objective. I become willing to make amends, knowing that through this process I am mended and made fit to move forward, to know and desire God's will for me.
This post may contain affiliate links. If you click one of these links and make a purchase, I may earn a commission at no additional cost to you. In addition, as an Amazon Associate I earn from qualifying purchases.
This webpage last updated on December 12, 2022.