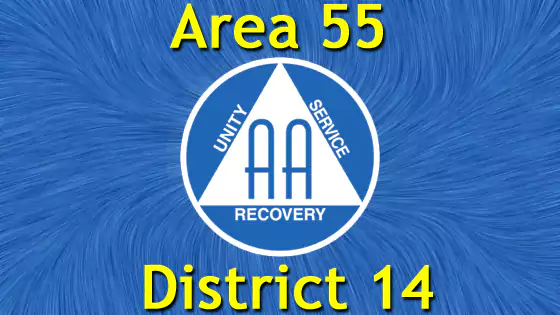 District 14 – Alcoholics Anonymous – Area 55
The District 14 DCM is Neal M.
Contact Neal at District14@area55aa.org
District 14 meets the second Tuesday of every month at 6:30 p.m. at 222 S. West Street, Lima, OH.
Groups within District Fourteen include:
Money – Before and After
In our drinking time, we acted as if the money supply were inexhaustible, though between binges we'd sometimes go to the other extreme and become miserly. Without realizing it, we were just accumulating funds for the next spree. Money was the symbol of pleasure and self-importance. As our drinking became worse, money was only an urgent requirement which could supply us with the next drink and the temporary comfort of oblivion it brought.
<< << << >> >> >>
Although financial recovery is on the way for many of us, we found we could not place money first. For us, material well-being always follows spiritual progress; it never precedes.
1. Twelve and Twelve, Page 120
2. Alcoholics Anonymous, Page. 127
Thought for the Day
In A.A. we do not speak much of sex. And yet putting sex in its proper place in our lives is one of the rewards that have come to us as a result of our new way of living. The Big Book says that many of us needed an overhauling there. It also says that we subjected each sex relation to this test – was it selfish or not? "We remembered always that our sex powers were God-given and therefore good, neither to be used lightly or selfishly, nor to be despised or loathed." We can ask God to mold our ideals and to help us to live up to them. We can act accordingly. Have I got my sex life under proper control?
This website last updated on October 12, 2022.