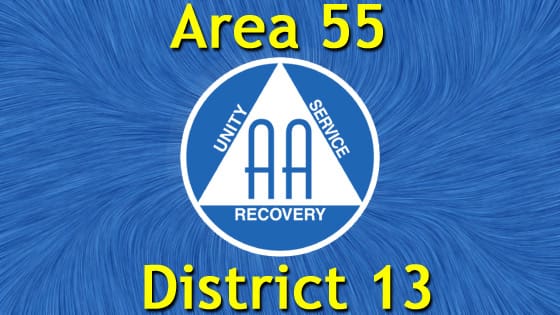 District 13 – Alcoholics Anonymous – Area 55
The District 13 DCM position is vacant. If interested in becoming District 13's DCM, send an email to alt.delegate@area55aa.org
Groups within District 13 include:
---
Domination and Demand
The primary fact that we fail to recognize is our total inability to form a true partnership with another human being. Our egomania digs two disastrous pitfalls. Either we insist upon dominating the people we know, or we depend upon them far too much. If we lean too heavily on people, they will sooner or later fail us, for they are human, too, and cannot possibly meet our insecurity grows and festers. When we habitually try to manipulate others to our own willful desires, they revolt, and resist us heavily. Then we develop hurt feelings, a sense of persecution, and a desire to retaliate.
<< << << >> >> >>
My dependency meant demand – a demand for the possession and control of the people and the conditions surrounding me.
1. Twelve and Twelve, Page 53
2. Grapevine, January 1958
This webpage last updated on June 10, 2021.