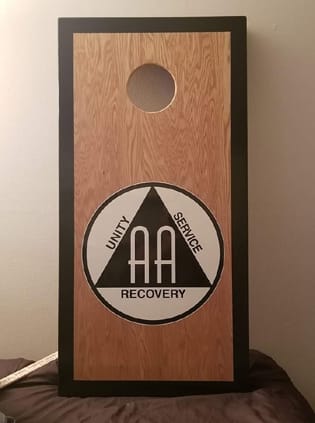 BG Friday Night Cornhole
When:
Friday Nights – 6:00 pm until the start of the weekly BG Friday Night open discussion 8:00 pm AA meeting
Where:
St Mark's Lutheran Church
315 S College Dr
Bowling Green, OH 43402
Venue:
Starting Friday March 15, 2019 – we will have corn hole games in the gym every Friday from now on. Meeting is open discussion first 3 weeks and last Friday of the month is a lead.
Map Directions:
Hope Born from Hopelessness
Letter to Dr. Carl Jung:
"Most conversion experiences, whatever their variety, do have a common denominator of ego collapse at depth. The individual faces an impossible dilemma. "In my case the dilemma had been created by my compulsive drinking, and the deep feeling of hopelessness had been vastly deepened by my doctor. It was deepened still more by my alcoholic friend when he acquainted me with your verdict of hopelessness respecting Rowland H.
<note: the following is "The Message" !!!>
"In the wake of my spiritual experience there came a vision of a society of alcoholics. If each sufferer were to carry the news of the scientific hopelessness of alcoholism to each new prospect, he might be able to lay every newcomer wide open to a transforming spiritual experience. This concept proved to be the foundation of such success as A.A. has since achieved."